Library Rules and Regulations
Internal users
CMMU faculty members, students and staff are automatically member of the library and entitled to use the library facilities free of charges for the following services:
Always show your student ID when entering library.
Access to library materials-books, journals, theses or any other publications and electronic databases.
Research Librarian or Reference Services (by a trained professional librarian who can assist in defining search specific information need and search strategies) Reference Services serve for current faculty members and students.
Computer and printing for current student only.  
circulation or borrowing library materials:
most printed materials can be borrowed except reference collections and current issue of journals are only for use in the library.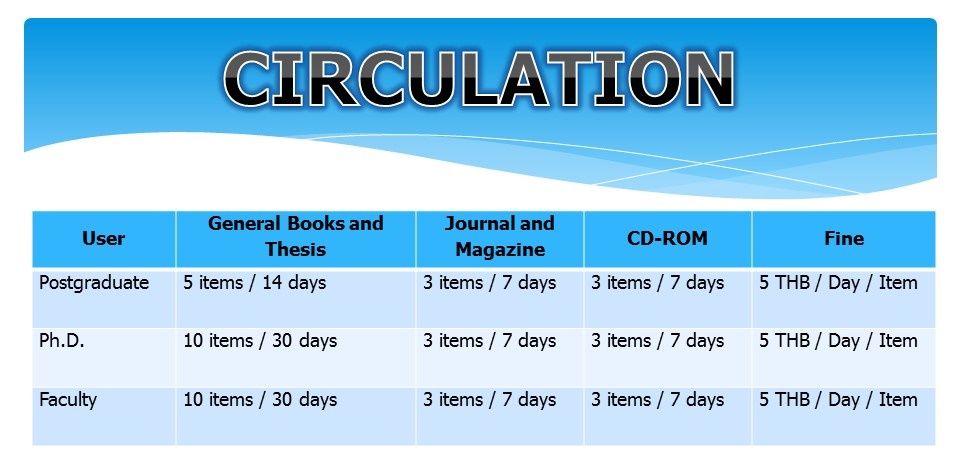 The students have to use their identification cards to check-out material from the library.
All faculty, staff and students who are affiliated with university are eligible to check-out library materials.
Patrons are responsible for theft, loss or damage to items checked-out.
reserved books
       You can reserve any book which is out on loan. We will ask the person who has borrowed it to return soon and notify you when the item is available. We will keep it for you for 2 days before reshelving.
research librarian or reference service
       CMMU students and faculty have specific learning and research need. The library provides research asistance at the Reference Desk. Reference librarian will help with research assignments or information retrieval service and teach how to select and use online resources such as e-journals.
syndicate room rules and regulations    
Kindly consider room reservation according to the air conditioner operation to save energy, by starting from 10th floor (during office hours), 7th floor (during service hours of Library), 9th 8th 6th and 5th floor. The air conditioner may not be turned on if there is no class or any CMMU activity.
Syndicate room can be used maximum 3 hours per day.
syndicate room can be reserved only 1 day in advance.
if you are late, your reservation will be canceled without prior notice.
External users
       The CMMU library serves primarily for current faculty members, students and staff of CMMU and open to public to visit and use of books, journals, theses within the library. No library cards in required for this
You have to sign in our vistor book and write down the purpose of library use at the entrance.
You cannot access the computer network and electronic databases.
You are not allowed to borrow books or other library materials except photocopying.